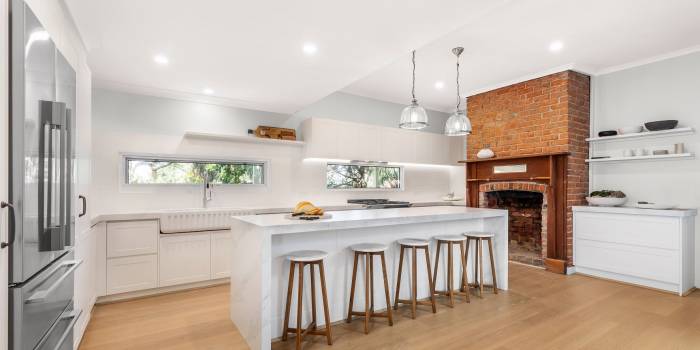 If 2020 saw the trending of green thumbs and home offices, the kitchen also became the centre of families staying at home for long periods. Not long after, many families were doing kitchen renovations to accommodate the additional family time. Now that it's a whole new year, what kitchen trends for 2021 are in store for Australian homes?
Brass fixtures
Who says brass is old fashioned? Brass offers a new 2021 trend as warming tones and shades to enhance trending blue and green cabinetry. Brass also adds a sophisticated touch to elevate any kitchen style. Why not convert every knob and handle in your kitchen to brass? And while you're at it, get industrial brass taps to make a statement about your kitchen.
Cabinet colours and styles
Your cabinets, not your appliances, accentuates the kitchen with their colours or styles. Why not go for two-tone or darker hues? Darker and moody hues will make a comeback in 2021. Matte black, navy blue, and other darker hues are becoming a dominating trend in every element of kitchen design, particularly with cabinets. For two-tone kitchens, darker surfaces such as dark worktops and countertops can then be offset by lighter coloured appliances, furniture, and cabinets.
Smart kitchen features
If you have a smart home, why not have a smart kitchen? Integrated kitchen appliances will make staying at home in 2021 more comfortable. Smart kitchen features are also the perfect solution no matter what size of the kitchen. For instance, you can integrate your alarm and coffee maker so that your coffee is ready to be poured by the time you enter the kitchen in the morning.
"Hot water" taps installations started increasing in 2020. It is undoubtedly a growing trend in 2021. Hot water taps have been spurred by more families working and studying from home, calling for a quick demand for hot water for making a fast cup of coffee, tea, or noodles.
Clever storage space
2021 will still see the kitchen as the most used and lived-in room of the house. This means the demands for clever or concealed storage will certainly grow to make kitchens clutter-free. Concealed storage solutions like pull-out pantries and compartmentalised cabinets and drawers will only grow in popularity. But clever storage also means, once the storage space is opened, everything inside is accessible easily.
Kitchens U Build
We, at Kitchens U Build, like to think of your kitchen as the heart of your home. Your kitchen renovation for any kitchen trends for 2021 can be easy! You can talk to us so we can help you tackle the project yourself or stand back and let us take care of the entire process. Talk to our sales consultant for your enquiries. After all, ITS YOUR HOME, YOUR CHOICE.