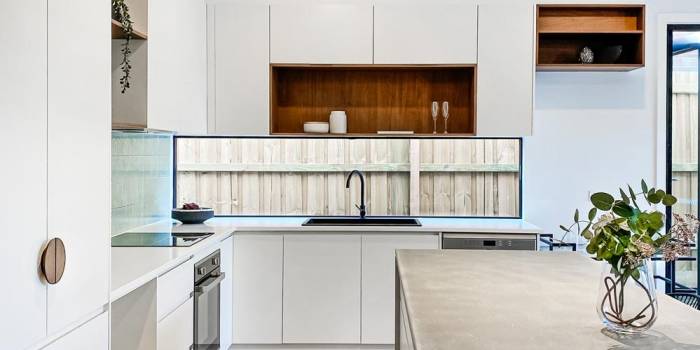 Designing and bringing to life a new kitchen can be both exciting and overwhelming. There are a lot of decisions to make and you want to make sure it is a functional and beautiful space for years to come. While you are in the planning stage, there are a number of common kitchen blunders which, with our help, you can avoid.
Forgetting to make practical considerations
Before jumping straight into colour palette selections, ordering splash back tile samples and weighing up matt black versus brushed gold tap wear - it is crucial to get the kitchen layout right. It is very easy to get caught up in the aesthetics of the design and forget about the practical side of things, which can result in a kitchen that is less functional than it ought to be.
Take the time to consider how you want your kitchen to perform. Is your dishwasher close to your glass and crockery cupboards for easy unloading? Is there bench space next to your oven to make the transfer of hot food both easy and safe? Is your pantry too deep that the contents at the back are difficult to access?
Make a list of practical kitchen likes and dislikes and make sure your kitchen layout design caters for these.
Selecting a clashing style
Before you commit to a show stopping French Provincial kitchen masterpiece, take a step back and consider how it fits in with the rest of your home. You want your kitchen to fit seamlessly with your other cabinetry areas, furniture and interior style. By factoring in surrounding furniture and finishes you can ensure your kitchen selections will not clash.
Putting lighting in the wrong place
One of the more common blunders is poor lighting planning. Lighting needs to be placed over key task areas and bench tops, rather than over walkway areas. Pendant selection needs to be based on aesthetics and performance, rather than solely on looks. Adding lighting beneath overhead cabinetry is another way to boost visibility in your prep and cooking zones. Plan for a mix of indirect  warm (or ambient) lighting paired with task lights for prep zones. This will set a practical yet welcoming tone in the kitchen.
Opting for inferior hardware
Pull-out corner units, drawer dividers, soft-close runners and door hinges are the added luxuries that often get excluded from kitchen designs due to budget constraints. Despite seeming like 'extras', good-quality accessories and hardware can make the largest difference to your kitchen, boost its storage potential, and in general make your kitchen space last longer and be more pleasant to use.
A kitchen that is both functional and beautiful starts with a well considered plan. With our experienced design team on hand, and the ability to customise every aspect of your kitchen, we'll ensure you avoid the common kitchen blunders and create a space that is both functional and beautiful for years to come.