 We all know that the kitchen is the centrepiece of any home, playing host to family dinners, social events and much more. And while it may be the soul of the home, a fully functional and spacious kitchen doesn't have to be enormous. It's all about getting a kitchen that works for your needs and uses the space that you have, to maximise its potential. A great way to do this is by incorporating a kitchen island into your design - it's practical, optimises space, looks good and is a great way to ensure that your kitchen has everything you need!
As the kitchen has evolved from a workspace simply for preparing meals that was separate from the rest of the home to a versatile, social space where everybody wants to gather, the island bench has become a must have for the modern kitchen…
So, what are the main benefits to including an island bench into your kitchen?
Allows for natural flow of people
Rather than cordoning off the kitchen from other areas and creating a dead walkway, island benches allow for a wonderful flow throughout the space. This is especially important when it comes to larger gathering or social events. The easy flow of people in and out of the kitchen allows for multiple people to help prepare food, wash dishes, pour drinks and chat without any issues. Unlike spaces with a peninsula design that often result in awkward "traffic jams", a kitchen island provides you with all the workspace you need to cook up a storm with friends and family.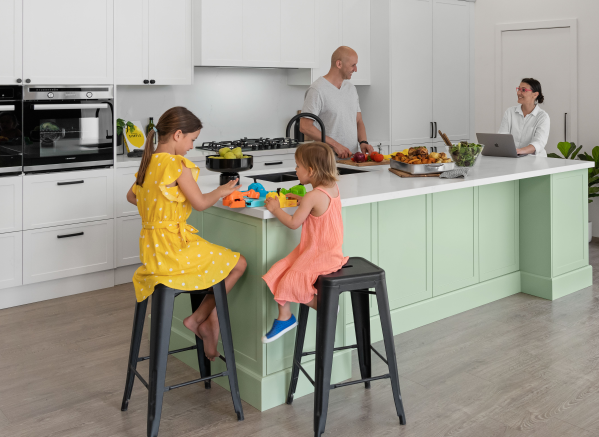 Additional storage options
In just about every kitchen, storage is the one thing that you can never really get enough of. There is always an extra set of containers or cookware that you can never seem to find space for, and this is where islands come in. Not only do they provide more bench and work top space, but modern islands can also utilise front and side storage with cupboards and drawers, giving you plenty of room for your kitchen essentials and gadgets, without them cluttering your bench tops!
A kitchen island can also be a great spot for your sink, so that when you're preparing meals you have everything you need in one spot. The same is true with appliances, which can be placed in convenient spaces under the island bench top!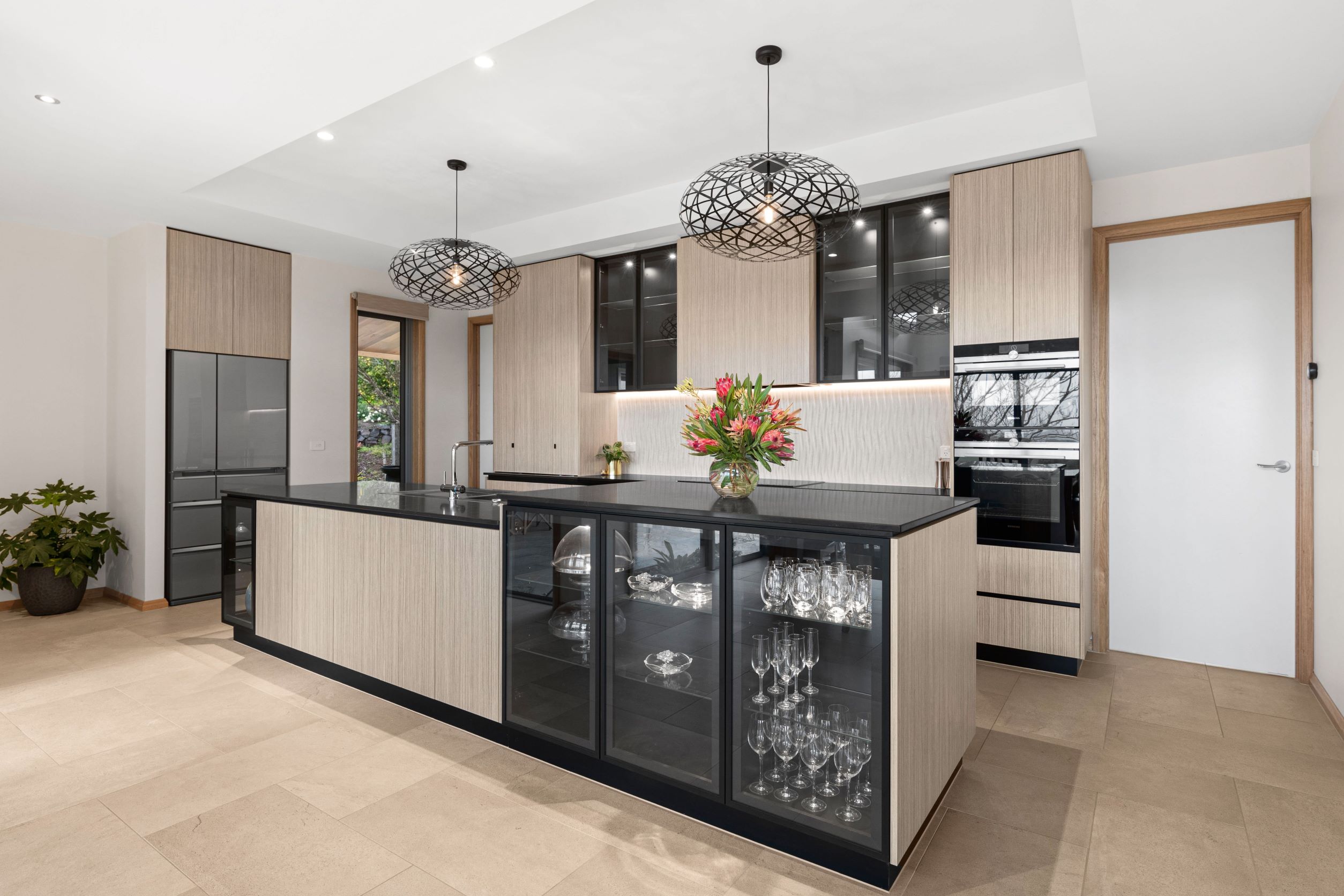 Centrepiece for gathering the family
As the Kitchen has become more of a social space rather than just a place to prepare meals, the island design has become a must have in many households. Allowing for friends and family to pull up a seat and chat when relaxing, or act as a central point in larger gatherings where people can get together, while also being the perfect spot for placing food and drinks without having to add extra tables to your kitchen space. A kitchen island is also great as a breakfast bar, when you don't need the formality of sitting around a table, allowing the family or guests to come and go as they need to – perfect for those busy mornings before work and school. In many ways a kitchen island has become the default for all types of situations, thanks to its convenience and versatility, with it becoming a secondary dining area. In recent years many people have taken this a step further and combined their dining table and island benches as a hybrid, further opening up their kitchen and creating a real one stop space for cooking, eating and socialising.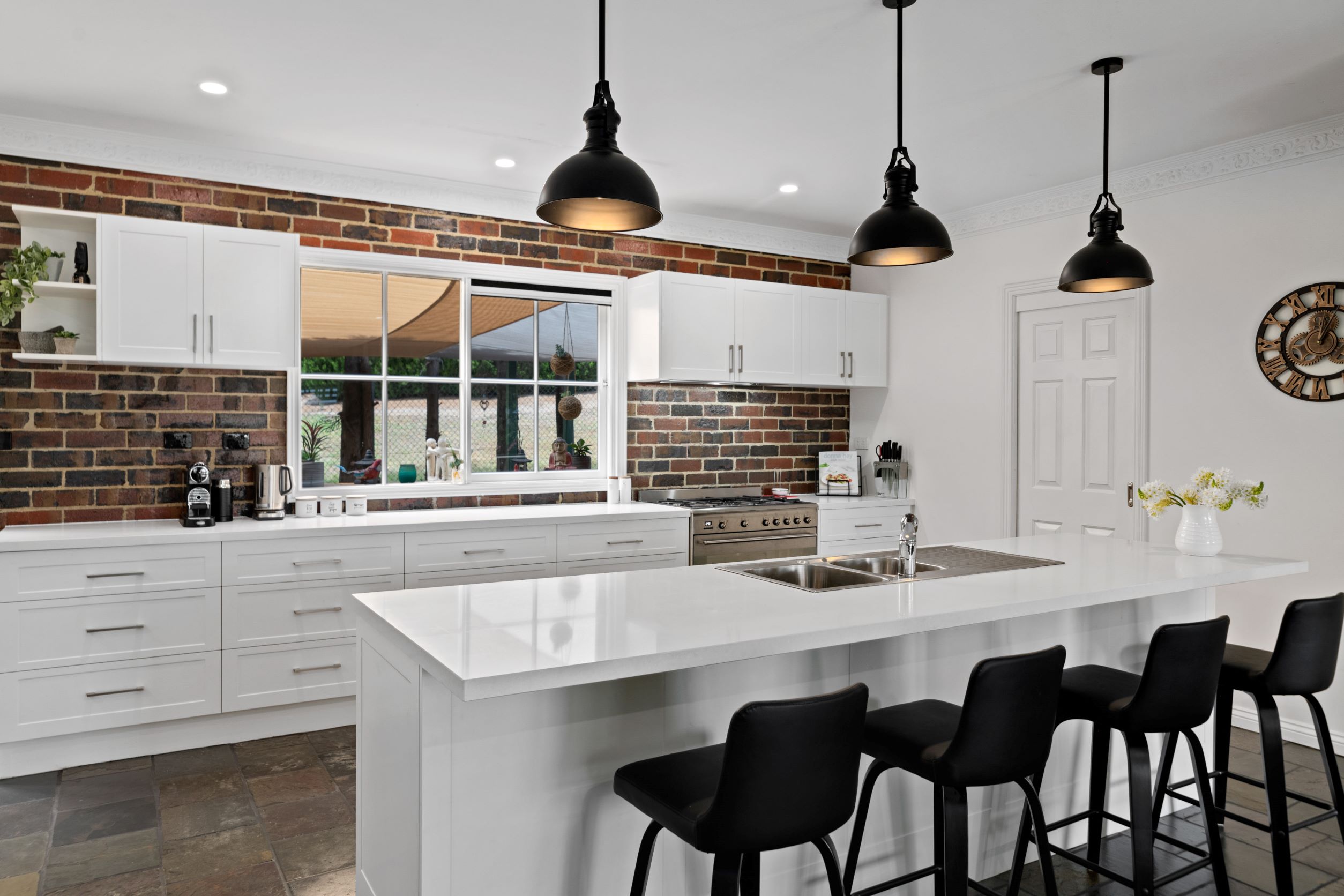 Stylish
Not only are islands functional and versatile, but they can also create a stunning focal point in your kitchen, with many kitchen designs making the island the hero of the space. With a whole multitude of finishes, colours and bench top styles available, your kitchen island can even set the theme for the rest of the kitchen, or act as a standout statement piece that will impress anyone who comes to visit!
Cost effective design aspects
In many circumstances, island benches can also be more cost effective, due to less materials being used in the build process than traditional kitchen formats. With the ability to add extra storage and tailor your island design to fit perfectly within your kitchen space, you can also save as you may not need extra cabinetry or workspace areas in other parts of the kitchen.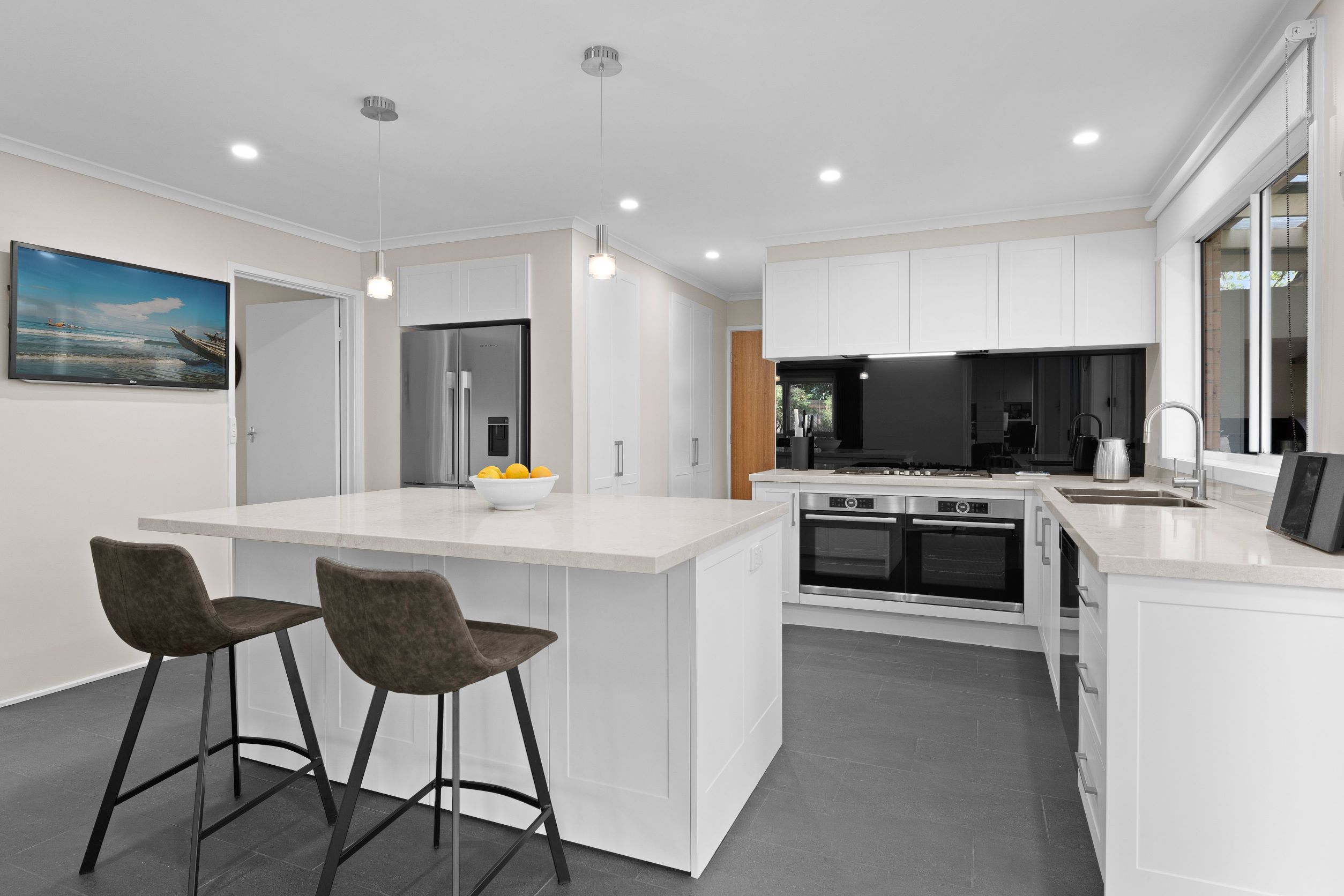 We can help you get the kitchen for you


So, while we do believe that islands provide a huge benefit for the majority of kitchens, each and every person has their own needs and preferences when it comes to building their dream space, and that's where we come in!
We've always worked by the ethos that each client should have a kitchen that is designed exactly to their needs and wants, and we want you to have a choice with just about every decision along the way.
That's why when you're designing your dream kitchen, we can help you with the design to tailor an island to fit your exact needs - whether that be an island focused on maximising storage, functionality or one that doubles as a dining table. The choice is yours!
What materials and design do we recommend?
The materials you use in your kitchen build can help shape the style and look of your space, and different materials and finishes can help enhance your space and bring your ideal design to life. We're happy to help you achieve any style and to get you inspired, we take a look at some of the most popular styles we build…
Modern Hamptons
This kitchen style has become increasingly requested in recent years due the ideal blend between modern features and classic, elegant style. A few key features we'd suggest are:
DOORS: POLYTEC Stratford design in cream, stone or grey
BENCHTOPS: Stone ambassador benchtops
HANDLES: DORSET Florencia cup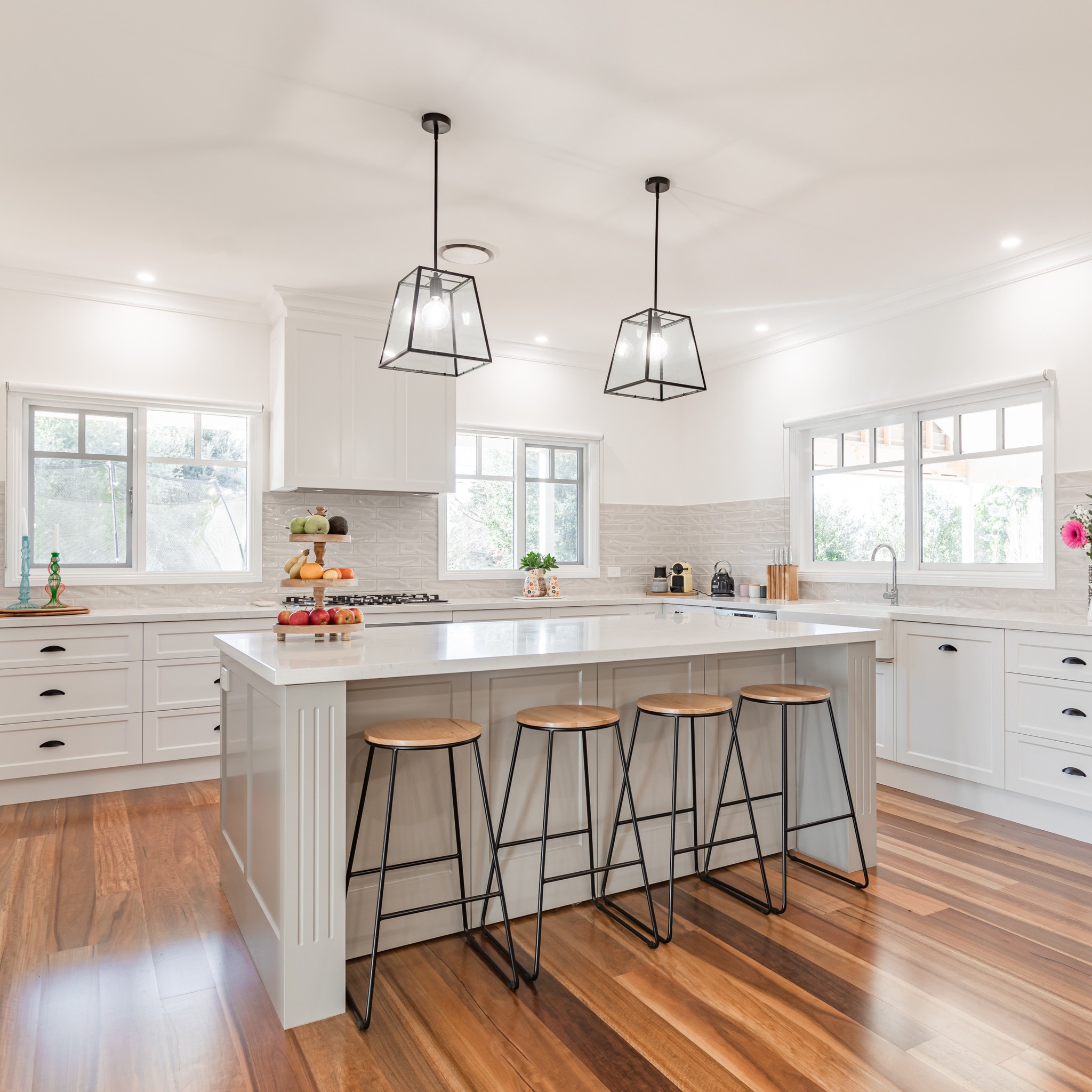 Contemporary Scandinavian
Characterised by sleek matte cabinetry, warm wooden tones and practical storage solutions, some key features are:
Large functional benches
Minimal colour palettes, generally light and natural colours
Light timber features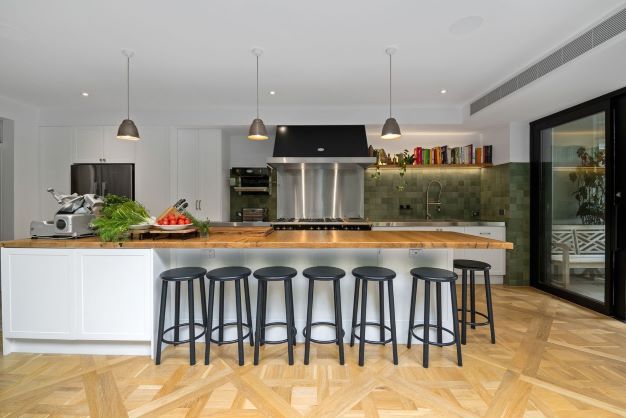 Industrial Chic
This design is popular in many urban homes or homes that have an industrial feel to the rest of the interior. It is characterised by concrete features (flooring or benchtops), open cabinetry, stainless steel, and exposed features (brick walls, pipes)