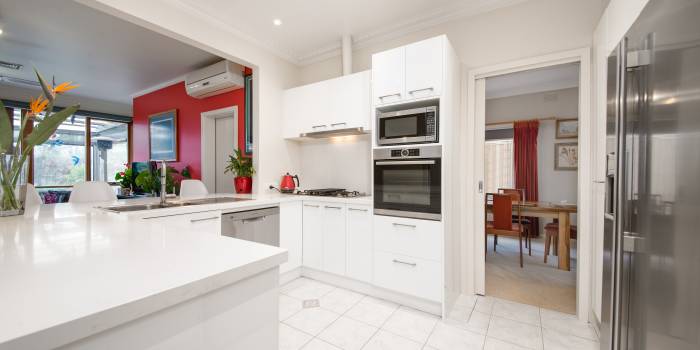 There is a difference when you decide to renovate your own home or you are renovating just to freshen up to sell.
One of the main differences is the design of the kitchen. Its a matter of not over capitalising but making sure the kitchen looks great, fresh & new and importantly fits with the style of the house. It should make an instant impact while a kitchen for your 'Forever Home' should be done to YOUR taste, budget and wants. CAPTURE YOUR INTENDED MARKET.
Designing the kitchen to make an impact without over capitalising is paramount. The design shouldn't be over complicated, relativly simple and in colours that wont alienate potential buyers. Also the type of buyer needs to be considered and the area the property is.
Dont choose colours that would stop potential buyers buying. Go neutral.
Keep the design fairly basic with minimal drawers and internal Hardware such as pull out units and hiden features. Remember, its first impressions that count
Make the kitchen LOOK expensive. A cheap Flatpack can have a negative effect and most buyers can pick a higher quality job over a fix up job
Stick with a design that compliments the house, even if that isn't your style. Think of the buyer
Dont design specifically to your tastes.
Know your client base. If the house or unit is small and inexpensive, stick with laminate benchtops & melamine doors.
But ...... Stone benchtops DO sell houses so if the budget can mangage it, use Caesarstone. Some suburbs NEED stone to sell so this may not be a compromise.
Modern is the least expensive option. Plain doors in a MATT or GLOSS can look classy and also keeps to a budget.
Use soft close doors and drawers as anyone opeing these will notice the difference straight away
Think of tiles more so than glass splashbacks. They are more economical and can look expensive.
Always replace the sink. Don't re-use your old one for the sake of $150.
New appliances can be basic but also look great instead of using the old ones. Again, know your area and the potential buyers. Sometimes name brands and extending the budget may be required in this area.
Be a little creative with lighting. A few new pendant lights over a breakfast bar is a great way to improve a room with a few new bar stools
Just remember. Its all about FIRST IMPRESSIONS. Make an impact and people will notice. KITCHENS DO SELL HOUSES