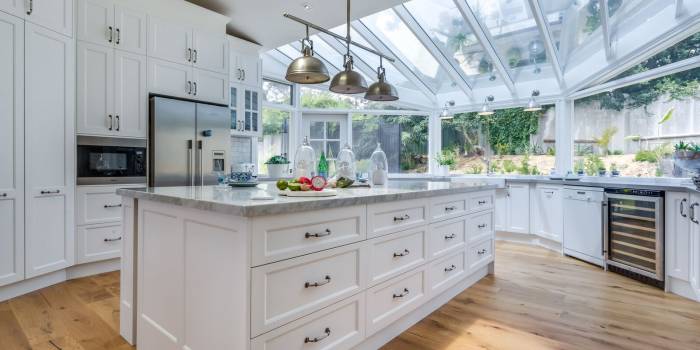 A question most often asked, especially by clients who havn't completed a kitchen for many years .... or never, "What is the difference between Vinyl & why don't we do 2 Pac doors any more?"
Kitchens U Build made the decision a couple of years ago NOT to sell 2 Pac doors because of the ground breaking improvements with Thermo doors.  The UV stability, sharp detail, Colours & finishes, no chipping or scratches, imperfections and polish marks, ability to replace quickly and will still match after years of use, warranty by the manufacturer .......... alot of these cannot be acheived with 2 Pac. 
Kitchens U Build does supply doors READY TO PAINT if required where the client can either paint themselves or arrange to have them painted.
Vinyl doors came onto the market and became prominent in the 1990's but was avabile only in a limited range of colours.  This allowed Cabinet Makers & clients the option of a smooth, economical product that allowed moulds or cut outs (Profiles or Patterns) into the door face and had a very hard wearing surface.  There were problems with these doors in the earlier years with delamination and the vinyl shrinking or peeling.  The products main issue was the amount of heat that was applied to the door to 'mould' the vinyl on the surface.  The manufacturing temperatures were quite low being 60 - 80 degrees which meant if heat was re-applied to the door, the vinyl would shrink or peel which caused huge issues, especially around ovens.  Also the vinyl was too thick to get into the patterns of the doors so sharp or intricate detail wasn't possible.
Today though,  THERMOLAMINATED DOORS have replaced the traditional 'Vinyl' doors.  Over the last couple of years, the product has vastly improved through better manufacturing, technology, adhesives and material used.  The temperatures used to press vinyl onto the doors has increased dramtically meaning the amount of heat applied to the finished product has improved massivly.  In fact, these days, if a Thermo door delaminates, there are other issues that need attending to, such as too much heat escaping a poorly sealed oven where it is actually burning the product.  
The patterns and profiles that can be acheived these days can be amazingly detialed and sharp.  In some cases where paint can 'round out' a profile, Thermo doors can form very intricate profiles and square edges in many different finishes.  
Finishes: Full Gloss, Texture, Matt, Super Matt (Silk), Woodgrain, Woodmatts, Suede etc.  100's of Colours and Woodgrains are now avaiable with some of the woodgrains so real even by feel.  
Profiles: Literally 100's avialable.  From plain doors with square edges to heavily profiled doors with intricate edging, there are designs to suit Modern styles to Farmhouse.  
For more information you can visit POLYTEC HERE who are one of our door suppliers