 Kerry & Johnny's Grand Kitchen Reveal


As you've probably seen over the last few weeks, we've been working with Kerry & Johnny Balbuziente from Married at First Sight, to build and install their dream kitchen.
They reached out to us as they were after a kitchen provider that would give them freedom and choice to build their kitchen to fit their home and look exactly how they had envisioned it.
The end result was this stunning space, inspired by Palm Springs and coastal living. Designed to be open and airy, the kitchen is centred around the large island, perfect for entertaining. The layout allows for the flow of people from the rest of the home and around the kitchen, making it a truly sociable space for friends and family.
It's clear that both Kerry and Johnny have impeccable taste - from their choice of style, layout, materials and appliances, we really can't fault it!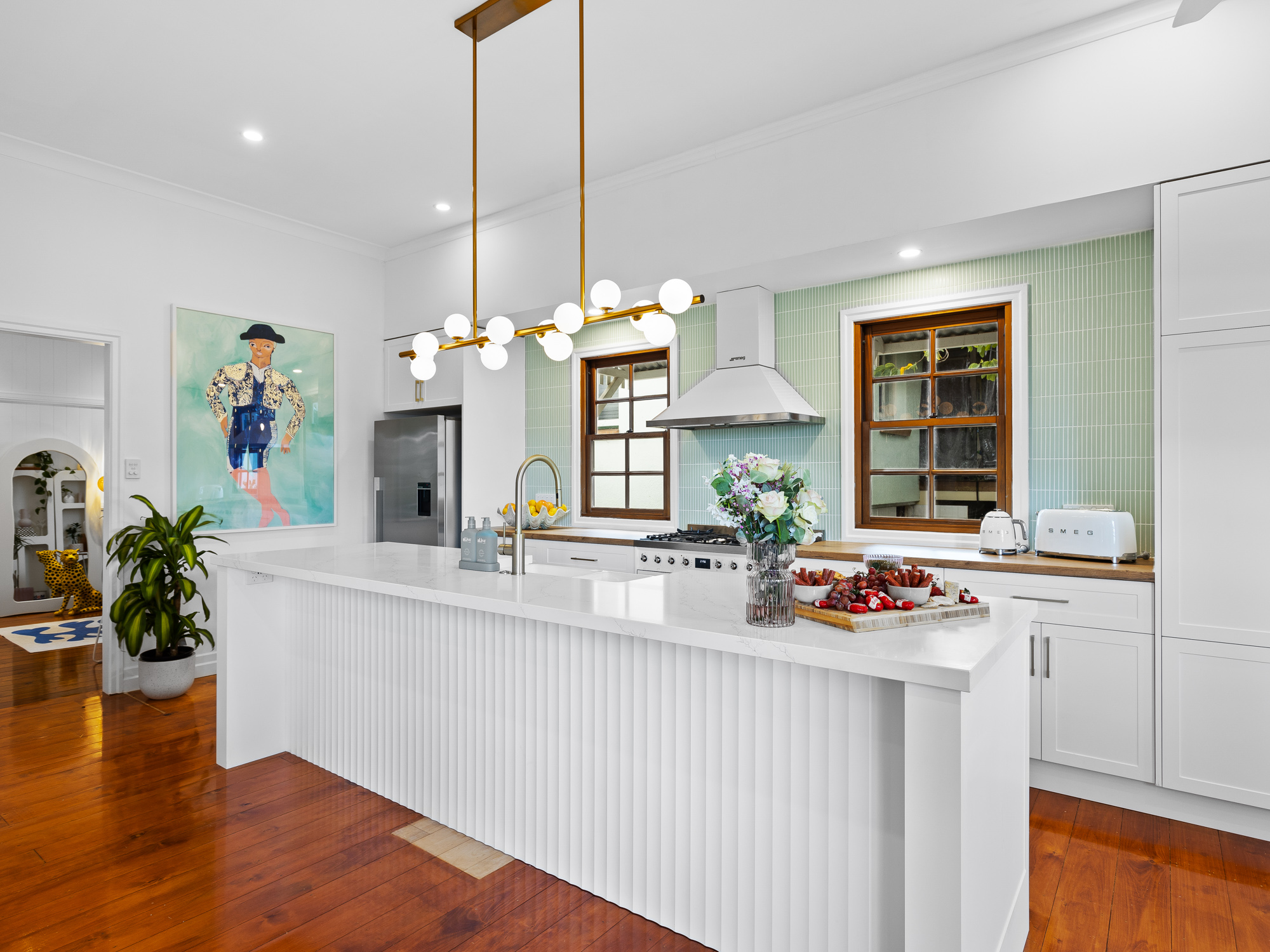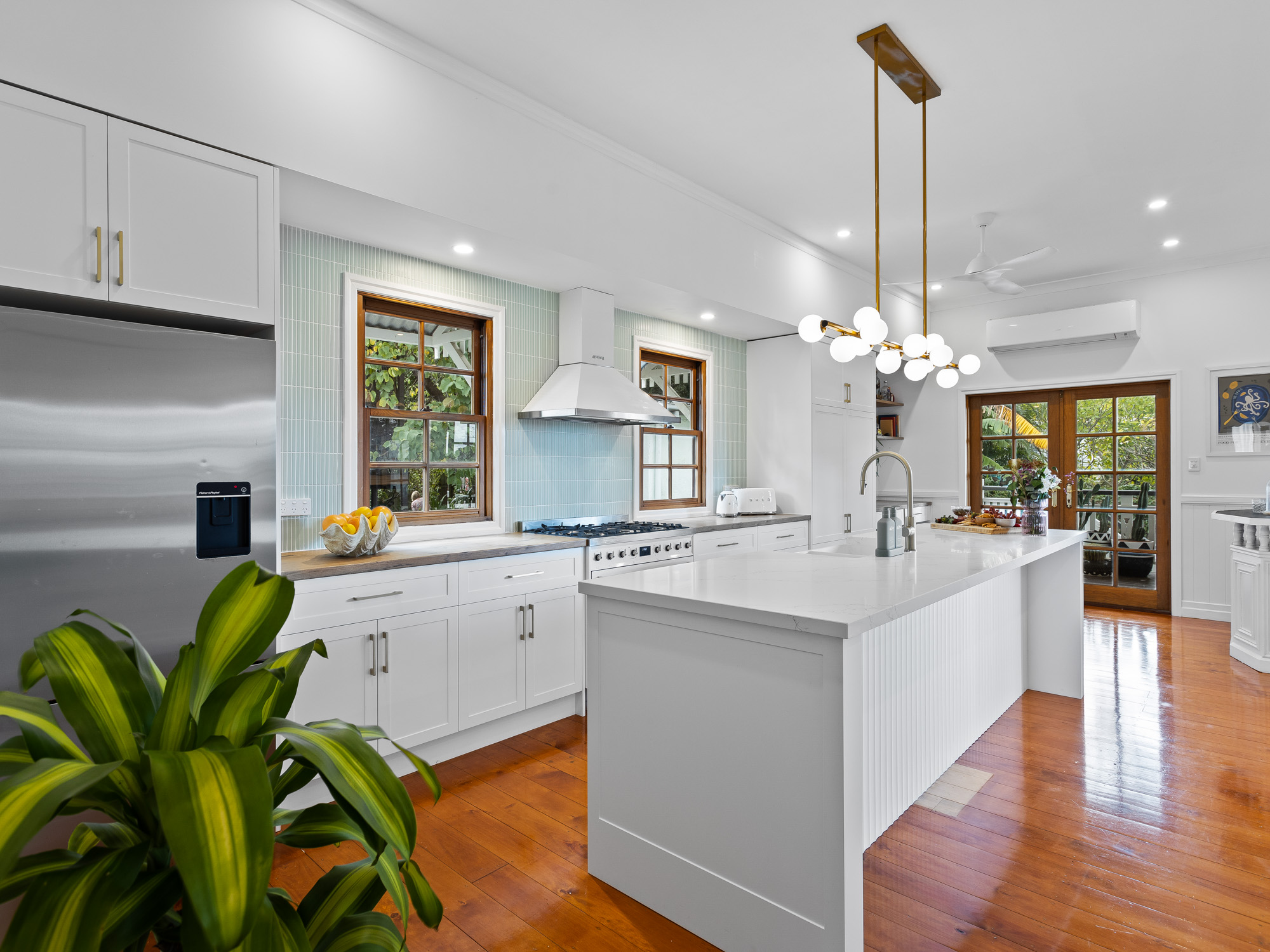 What materials did Kerry and Johnny use?
Thermolaminate is a great option for any kitchen, with a huge variety of finishes, designs and patterns, they are one of the most versatile options when it comes to cabinet doors. Thermolaminate is also extremely durable, and will stand the test of time. Mixing different patterns gives a fresh and modern design to a Hamptons theme.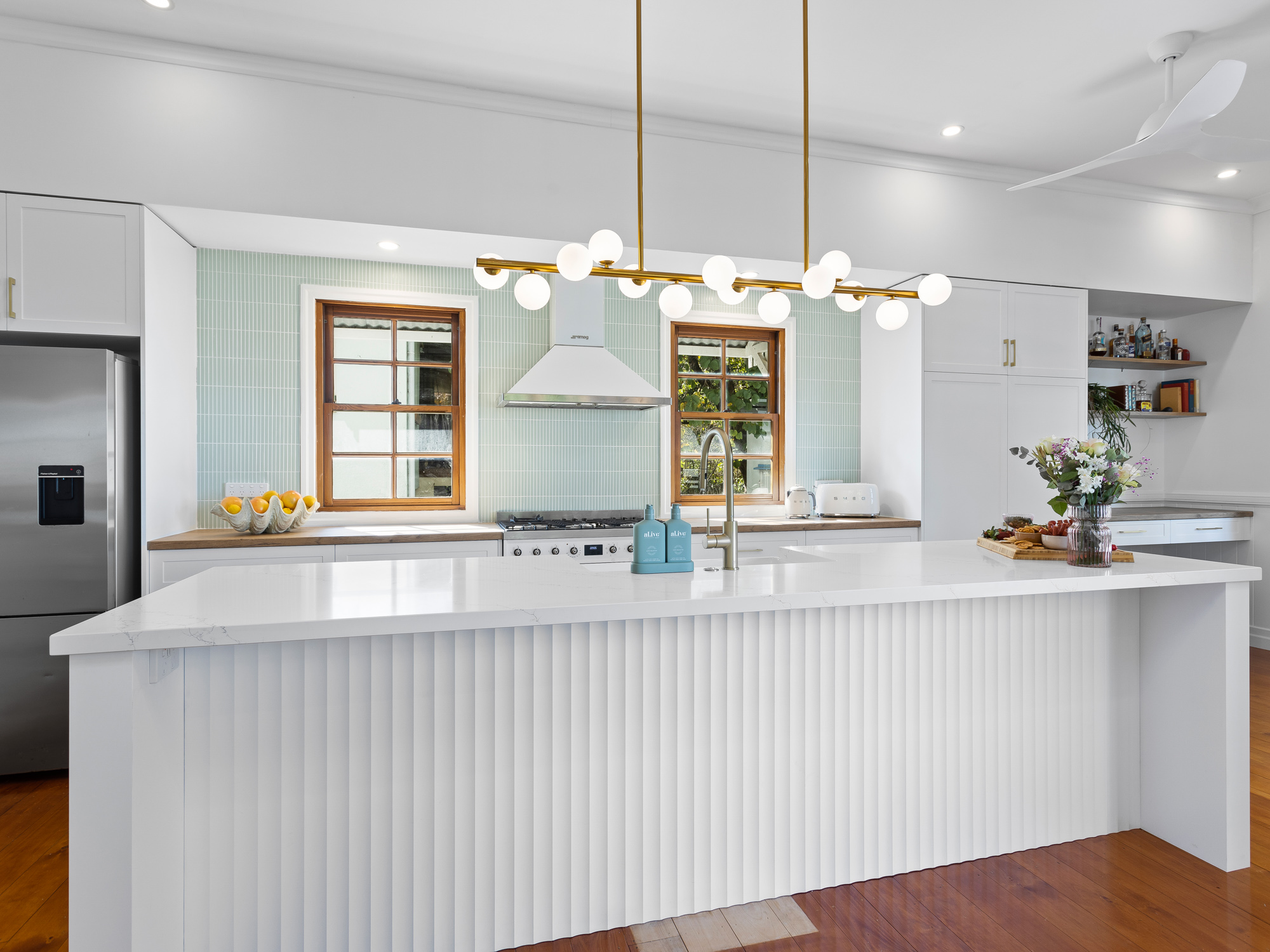 Australia's leading stone benchtop manufacturer, stone ambassador is well known for its heat, scratch, and stain resistant benchtops. Bluetta shares its name with the veins that run through its surface.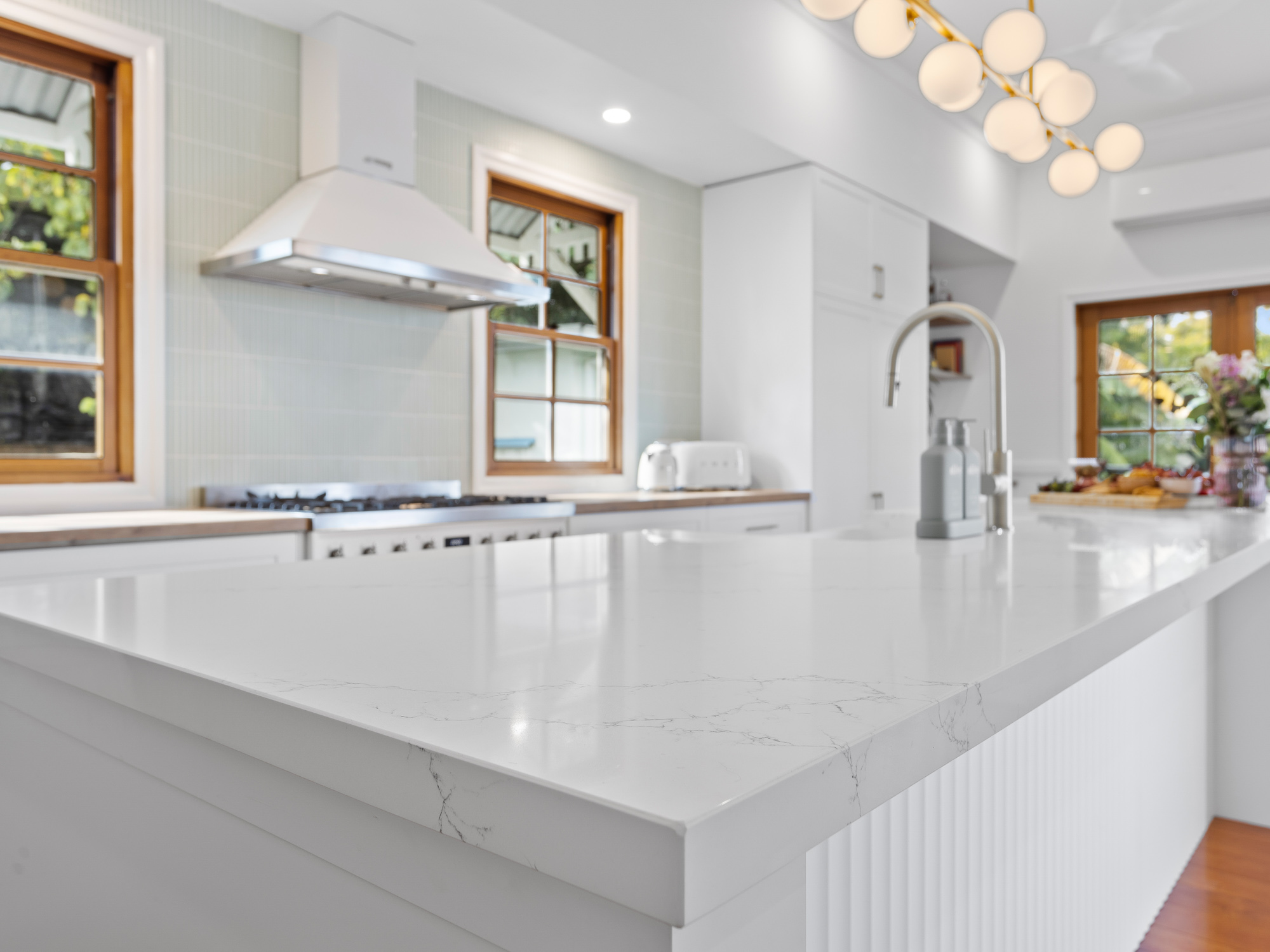 Mixing Laminate with stone is more popular now. It creates more interest, ensuring the Island is the centre piece while the working surfaces of the other areas are taken care of with laminate being the most durable product available.
Don't be scared on mixing different patterns, colours and product to give your place a truley unqiue touch.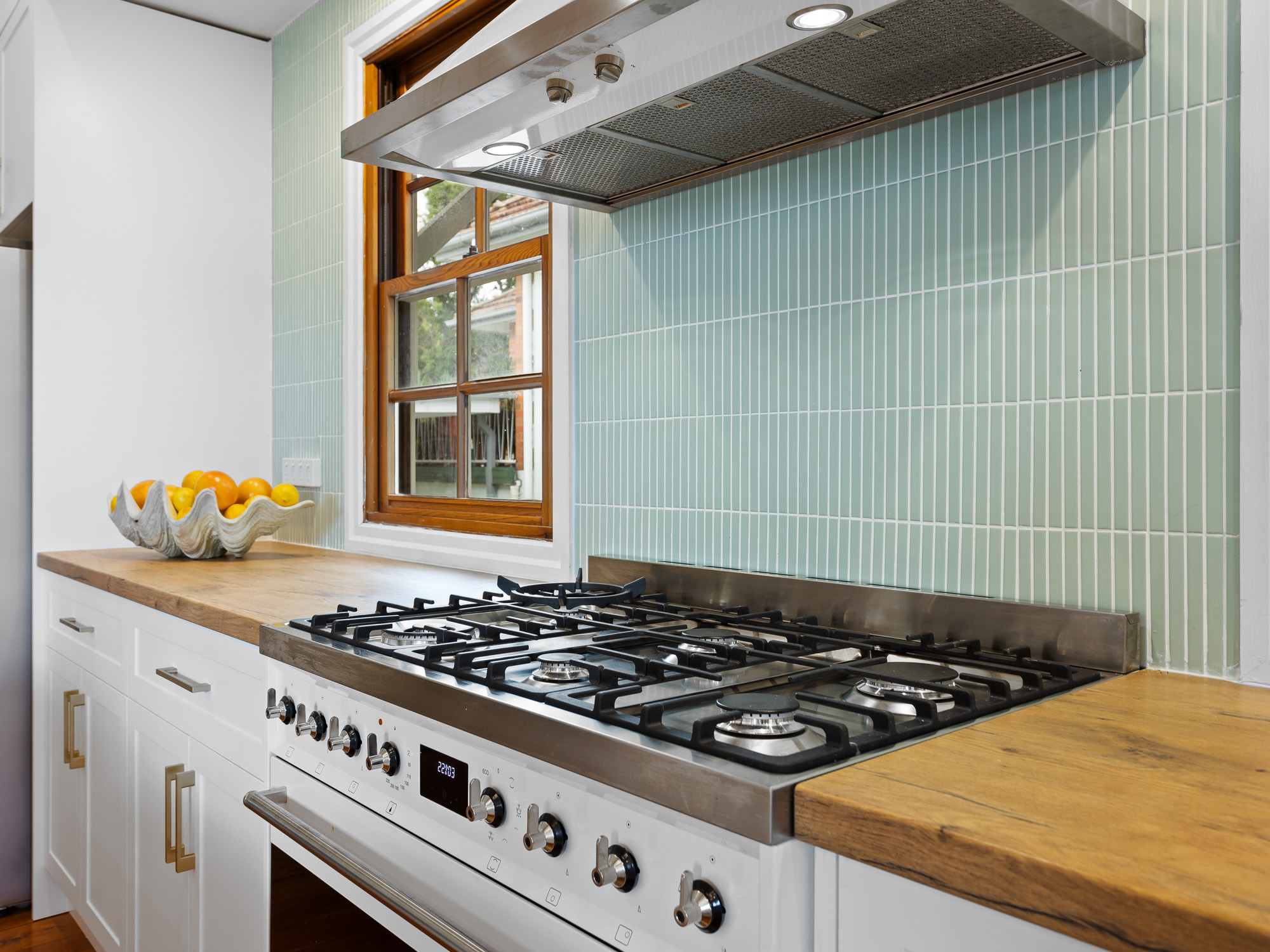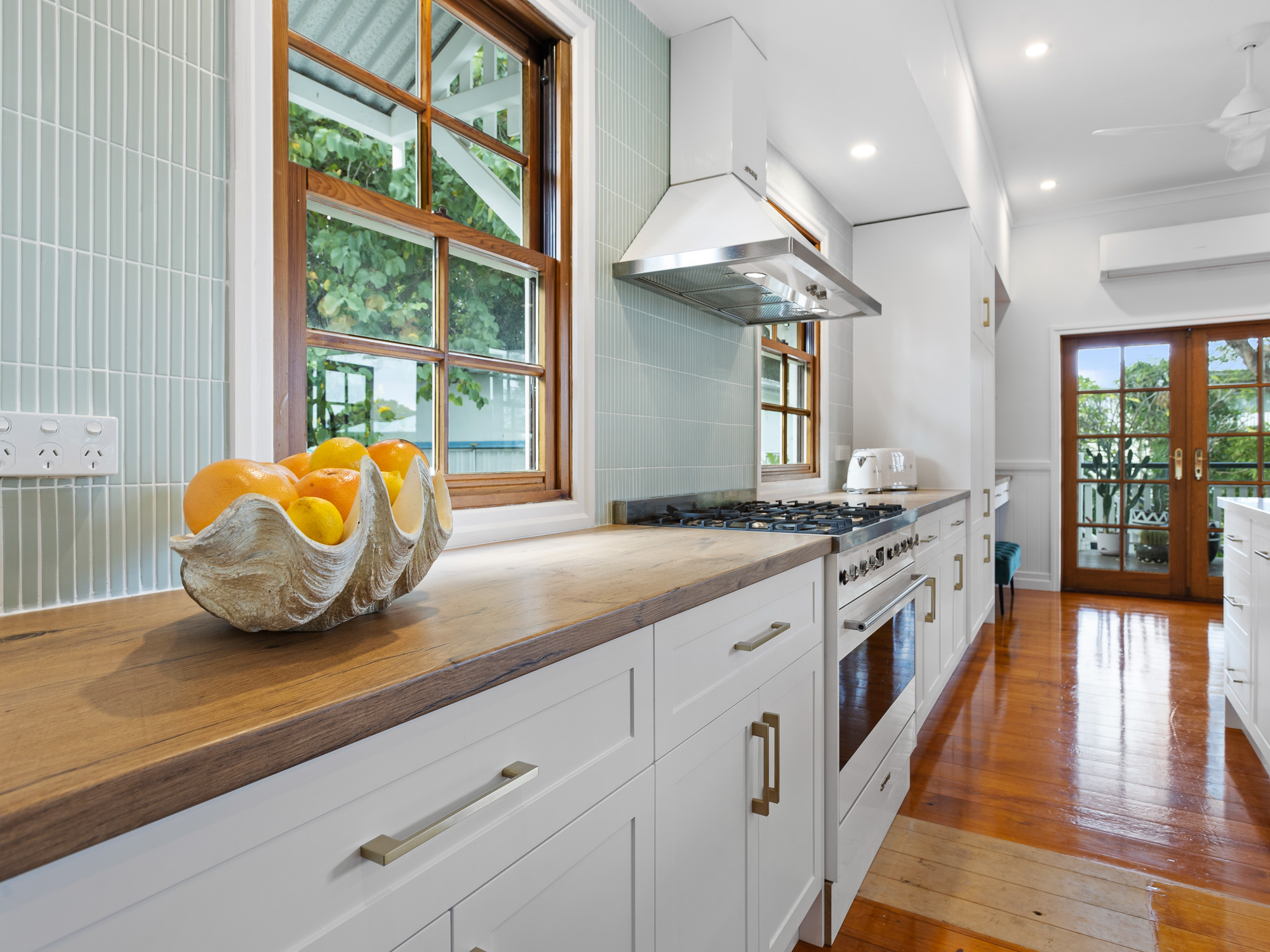 These gorgeous, brushed brass perfectly embody the mid-century Palm Springs aesthetic that Kerry and Johnny were going for. The LIVORNO range is available in many finishes, sizes and colours from Black, Stainless, Brass and White.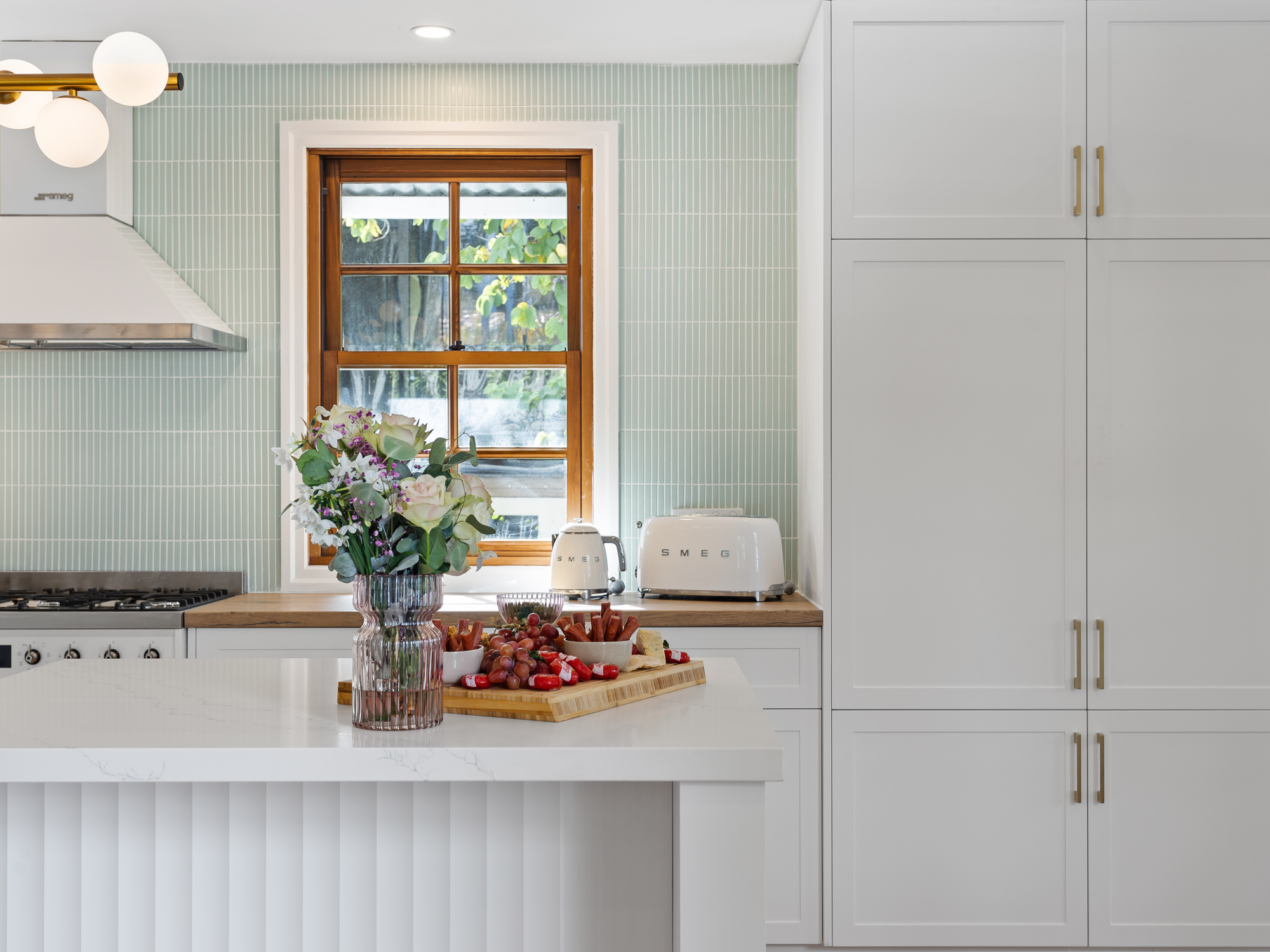 At KUB we're all about a building journey with as much choice and as little pressure as possible, because nobody needs extra stress in their day-to-day life, especially when you're already embarking on a kitchen renovation!
You won't be pressured into buying or signing on the spot, after all we're craftsmen, not salesmen. We'll make sure you've got all the information you need to know that you've made the perfect choice by building with us.
With our friendly and flexible approach you can take your time with any decision, and change your mind about colours, a re-design and materials, unlike other kitchen providers that may require a lock in contract, and make additional charges for any changes.
Choice is at the core of our business, and we believe that the more choice that you get, the happier you will be!
Why more choice is always better
Each and every client is different, with different needs, lifestyles and tastes, just like every kitchen! With everyone having different available building space and layouts, it makes it far harder to use standard off the shelf flatpack options. They'll often need to be altered to fit your specific layout, or the kitchen design will end up not being exactly as you wanted it with cupboards, appliances and storage not making the most of your space.
That's where custom made cabinetry comes in, tailored to your exact needs and desired style, it gives you the choice to optimise all the space available, and have everything just where it needs to be in order to bring your dream kitchen come to life.
At Kitchens U Build we prioritise choice throughout aspects of the design and building process, so much so that it's in our name, U get the choice! Whether you need us to help in designing your kitchen and working with you all the way through to the install, choosing one of our many designs and installing it yourself, or bringing us your own ideas and letting us help with the build. We can assist as much or as little throughout the process as you need us to!
If you're choosing your new kitchen and would like to begin your journey with us, why not visit one of our showrooms or get in touch – we'd be happy to talk with you and see how we can help with any part of delivering your new kitchen or laundry!