 Reimagine, Reinvest, Renovate
While renovations can be a big undertaking, they can also be a really rewarding experience.
A sure-fire way to add value to your property, refreshing your home can be a great idea if it's looking a little tired and dated, but you don't want the hassle or expenditure of moving. With interest rates increasing rapidly and the housing market being increasingly unpredictable, many people are turning to renovating their current home rather than buying a new home and risking a mortgage hike.
However, not everyone has the free-flowing budget to renovate an entire home. For a lot of people in today's economy it makes financial sense to focus on one or two key areas and doing so can still be a great way to give your home a new lease on life, as well as increase the value of your property.
With the kitchen being the heart of the home and centre of family living, it has a great return on investment. In many cases, home buyers can be put off if the kitchen or living areas are dated and in need of some work.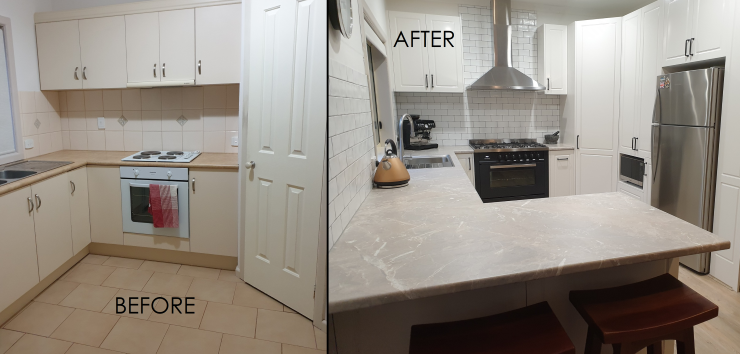 Benefits of a kitchen renovation:
Improved functionality
Functionality is one of the most important factors when it comes to designing your kitchen, and it could help determine how much extra value is added to your home after the renovation. Kitchens today are more than just somewhere to prepare a meal, it is the area of the house where people congregate, socialise, cook and eat. 
A huge benefit of renovating your kitchen space is that it can allow you to completely change how your kitchen is laid out and interacts with the dining and living areas. Even small changes such as adding a larger bench top or including an island can greatly improve the functionality of the space, improving the flow of traffic and making it easier to host guests or get together with the family.
Reduce energy costs and improve sustainability
Energy efficient technology has come a long way in the past 10 years, and there's plenty of little ways to not only reduce your utility bills but also do your part for the environment! Implementing effective insulation, using LED lights, energy efficient appliances and double-glazed windows will make a huge difference, and can help your kitchen or laundry be more sustainable for the future.
Increased storage
Kitchen storage is something that you can never get enough of! With many of us having more gadgets and equipment than ever, a redesigned or updated kitchen can allow you to add smart storage options, resulting in less clutter and chaos.

Get the style and aesthetic that U want
This is one of the most enjoyable parts of the whole process, giving you the opportunity to be creative and choose the exact style, design and environment that you want.
Arguably the most important part, this design phase will determine how your kitchen fits with the rest of your home. It's important that the style of your kitchen doesn't clash with the rest of your home, and rather compliments your other spaces. That's not to say that you can't still be creative and have the kitchen of your dreams!
We're here to help U…
That's where we come in, building kitchens that are uniquely you has always been what we do for our clients, making sure that you have a kitchen that is designed to work with exactly what you need and want, and we give you the choice with just about every decision along the way!
We can help you at every stage of your journey – our team can make sure your design not only looks the way you want it to, but also incorporates all the features and appliances that will make your kitchen the place to be.
Don't skimp on quality
While it can be tempting to go with the cheapest possible option, it may very well cost you in the long run!
Cheaply made and put together cabinetry can be very noticeable, especially as they age. This can potentially hurt the resale value of your home, especially if prospective buyers feel as if the kitchen will need replacing after they purchase the home.
All our kitchens are custom made with high quality materials to ensure that they fit into your room as they should. While standard flatpack products require manipulating to fit into the space as they are bound by specific size constraints (ie, drawers can only be 500mm or 600mm wide), we can customise any aspect of your kitchen creating your dream space for only that little bit more than standard off the shelf products.

Your kitchen, your way
There are many benefits to renovating your kitchen, and many things to consider along the process. Whatever your reason for renovating your kitchen, we are here to help with as much or as little of the process as you want. You provide the inspiration and ideas, and we will work with you to bring your dream kitchen to life.