 ADDING VALUE: With interest rates continuing to rise and housing markets in Australian capitals seeing downturns, many people are looking to renovate their homes rather than attempt to sell and risk losses.
Renovating key areas such as your kitchen, bathrooms or laundry can be a sure-fire way to add value to your property. But it is not just a matter of just placing some 'off the shelf flatpacks' in your space expecting it to work, but having some professional help from a designer who can custom make items to ensure all space is utilised as well as increase storage space and functionality, lower energy costs with improved energy efficient design and appliances, and of course create a chic and aesthetic space. Not done properly can result in costly mistakes and in fact, decrease the amount of value that can be achieved on the renovation.
Designing and building your dream kitchen can be a huge undertaking, with many factors at play such as design, materials, layout, features and many more decisions that will shape the functionality and look of your new kitchen.
And with the kitchen being at the centre of the home and family life, these decisions really are important. So how do you make all these big decisions, and where can you get the inspiration to lead you on the right path? That's where we come into the equation, with well over 15 years of experience we've seen it all and completed kitchens in nearly every conceivable style and layout.
SOME FACTORS TO CONSIDER
Layout
Ensuring that the layout of your kitchen not only suits the available space, but also allows for adequate flow of people and maximum storage options is a crucial step in the design process. The main consideration will be where to position the main components of your kitchen —the sink, bench top, fridge, table, and chairs.
Make sure the whole layout looks structured and streamlined. You don't want to have your layout cluttered and hope everything is in perfect order. By doing so, you can ensure the functionality and efficiency of your kitchen construction.
Storage
Like the layout, adequate storage is a crucial part of a functional kitchen. Be sure not to sacrifice storage for aesthetics, as it will rarely be worth the trade-off (when's the last time anybody complained about too much storage in their kitchen??). When designing your kitchen, we often optimise the space for maximum storage solutions.
Lighting
While it may seem obvious and straight forward, if under-thought it could affect the ambiance and overall vibe of your kitchen. Too little lighting may end up being a nuisance and result in tasks such as cooking dinner becoming uncomfortable, and the wrong lighting options may make the space feel too clinical.
To give you a better understanding, we'll be showcasing four recent projects that we love, and will hopefully give you some of your own ideas for that next dream kitchen.
KUB Project Highlights
St Kilda, Melbourne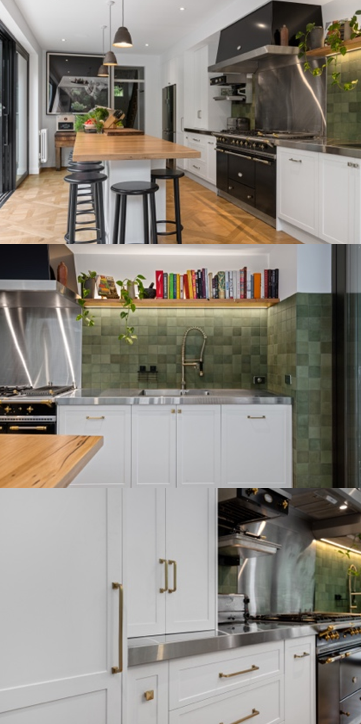 Embracing the charm and character of its St Kilda location, this kitchen oozes style and warmth with Polytec Hamptons matte doors in classic white and stainless-steel benchtops.
Designed with family and lifestyle at front of mind, the already open space can sprawl out on to the shady courtyard, perfect for sunny evenings, parties and gatherings.
Brisbane, QLD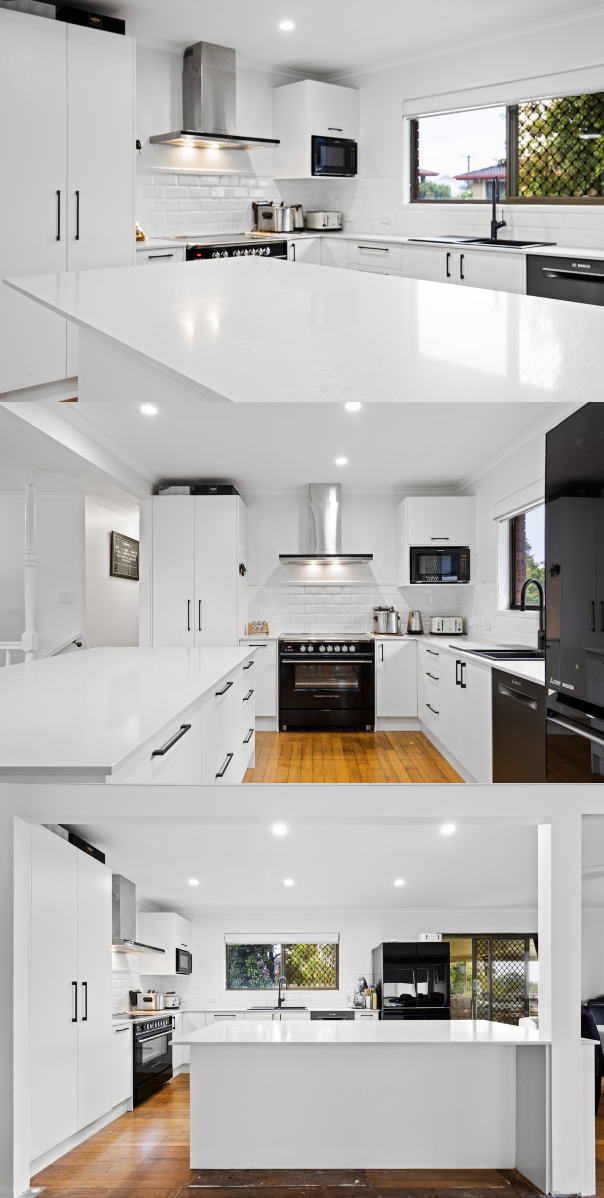 Sleek and sexy, this contemporary kitchen is simple but stunning. Located in the suburbs of Brisbane, the space manages to perfectly blend the black accents with the white cabinetry and Recon stone benchtops offset with the warm timber flooring.
Even though this was a relativley straight forward kitchen, the nessesity to be able to custom make was required with beams to be built around and squeezing as much storage as possible.
Regional Victoria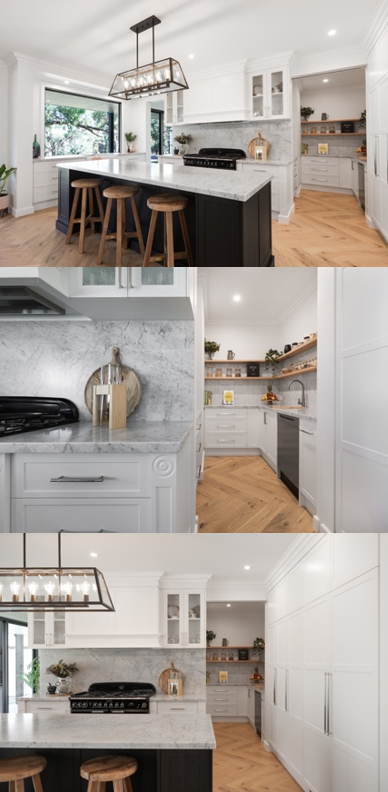 This gorgeous Hamptons style kitchen reflects style and charm, with Oak herringbone flooring, the use of Recon Stone on the benchtops & splashback, along with Polytec Hamptons Classic White Matte cabinetry.
This space perfectly blends the character and charm of traditional Hamptons with the luxury of modern features and appliances.
In this same project we also completed the laundry and mud room, keeping with a similar style to the kitchen, this allows the spaces to flow together seamlessly.
Incorporating bold colours into a classic white and timber colour palette, this kitchen really does hit the mark. Adding a little extra vibrance and personality to an already stunning kitchen.
Are you ready to make the leap and update your kitchen? Whatever style or type of kitchen you're going for, we are here to help. You provide the inspiration, and we will give you the options to bring your dream kitchen to life.