Australian Custom Kitchens & Laundries
9 Showrooms located in VIC & SE QLD
Find a showroom nearest [U]
Find a location
Australian Designer Affordable Kitchens
Free instore design consultation & quote
BOOK NOW
Australian Custom & Affordable Kitchens
And we mean it. 1000's of combinations, colours, finishes and styles to choose from, KUB offer more choice in doors and benchtops. It's 100% your choice.
View our range
Australian Designer Affordable Kitchens
And we mean it. Choose which store is nearest to you. It's 100% your choice and we help guide you through the process.
Find a location
Kitchen showcase
Our kitchen and laundry gallery is now open
View gallery
2022 Kitchen Catalogue
Get inspired with the latest trends and ideas
Download Now
Designer Sessions
Lets create your kitchen together.
Organise Now
At Kitchens U Build, we believe in choice and are dedicated to helping you create a high quality, custom-built space that's as unique as you.
An Australian family-owned company, we cater to our customer by delivering the highest
standards in both quality and design, at a competitive price. Whether you install or we do,
at Kitchens U Build……YOU ALWAYS HAVE THE CHOICE.
DESIGN
FREE INSTORE DESIGN CONSULTATION & NO OBLIGATION QUOTE - KUB will work for [U] to design your own custom & Australian made kitchen and laundry +MORE. Bring your ideas to one of our 8 Design Centres, on line or we can visit your home. YOUR HOME - YOUR CHOICE QUALITY
QUALITY IS SO IMPORTANT - KUB only use the best products Made in Australia, Germany & Austria.  Names you can trust with most having a LIFETIME WARRANTY including BLUM - CAESARSTONE - VAUTH SAGEL - POLYTEC - HAFELE - BLAUPUNKT - OLIVERI + MORE.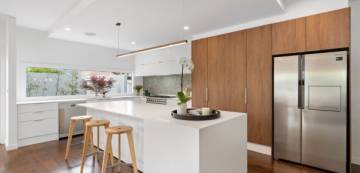 INSTALLATION

- U CHOOSE

YOUR HOME - YOUR CHOICE  KUB let you DECIDE how much or as little as you want to do yourself.  We can organise the installation including trades or YOU CAN CHOOSE TO DO AS MUCH OR AS LITTLE YOURSELF.  *KUB QLD: QBCC 15214342 - Kitchens U Build only use QBCC approved installers and trades in QLD.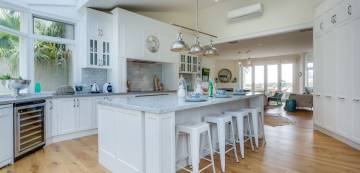 DESIGN & QUOTE

CUSTOM MADE

INSTALLATION
Let us help you DESIGN & QUOTE your next project either in our showroom, on line or at your home.
KUB only manufacture your project to order as no project is the same. We will work within your lead-times, then deliver and install if required when it suits you.
It is ALWAYS about choice!  You choose how much or how little you do.  You can complete the installation or we can do it for you!  
*  *KUB QLD: QBCC 15214342 - Kitchens U Build only use QBCC approved installers and trades. 
Got budget kitchen and installation from Ballarat KUB early 2018.
Everyone was pleasant to deal with and efficient.
Good quality cabinets.
I'm a tradie and was highly impressed with the competence of the installer and the quality of the installation.
Top value for money.

Damian
Great knowlege of the products with practical advise from the show room staff
Goods delivered on time and installed by a professional team
Every detail taken care of
Exceptional communications from the office

Brett
Stacey and Garrett have managed to design and install our dreamed kitchen at a very competitive rate. They were very supportive throughout the process and highly recommend them.
We are now ready for our next project with them!

Julie
Ever since the first day of Daniel and Dane come to install our new kitchen, they were both very professional and timely efficient. Both my husband and I are very pleased about our kitchen from Kitchens U Build, Traralgon office. All the staff we spoke to were friendly and courteous for our questions. I would highly recommend anyone purchasing a kitchen from this company. Thanks Samantha for your energy and design guru status.

Diane
We worked with the Carrum Downs KUB. Louis worked with us on our design. He provided excellent insight in to how to achieve our desired outcomes. We are very happy with the end result. Paul project managed the rip out and installation supported by Alison in the office. Bruce and Michael did the bulk of the install and did a great job.
Every one warns that renovations have their share of problems so be prepared. While the renovation was not without issues that KUB needed to address they were all corrected in a professional and timely manner. We managed the overall planning and subcontractors but with KUB's advice and collaboration, coordination with the subcontractors worked smoothly. It also included having our floor redone so there was coordination there as well. I might add we purchased the Domain products (rangehood, stovetop, dishwasher, sink and tap) suggested by KUB and one month along we are happy with all of the products. The prices were very reasonable.
Thanks again to all of the KUB Carrum Downs crew

Ringtail
Thanks to the team at Bayswater for our amazing new kitchen and laundry! Nothing was too much trouble during the design stage, the delivery driver was happy to help us get everything in the house and installation went smoothly.
There was some doors that needed to get made again but only took a couple of weeks for them to come back out and put them on.
Love all my soft close drawers and doors and glossy doors are easy to keep clean! Everyone who has seen our kitchen loves it as much as we do and even thinks our laminate tops are real concrete! Couldn't be happier with the end result and would recommend Kitchens U Build to anyone!!!!

Stacey
Service was great girls were informative and very helpful .kitchen looks great didn't take too long to install. Price was very cost effective much lower than other places for same products. Would recommend to anyone looking for a new kitchen .

Caroline